Several innovative therapies are now available for hematology disorders, including six CAR-T therapies that have received FDA approval. There are also three of the five bispecific antibodies currently approved globally for the treatment of hematology disorders, including Lunsumio, which received EU approval in June 2022. In this article, we will share with you the latest advances in innovative hematology therapies.
Antibody Drug Conjugates (ADCs) for Hematology
Antibody drug conjugates (ADCs) represent a new class of novel targeted agents with significant improvement in therapeutic efficacy in the treatment of hematological malignancies. Several of these agents, which offer improved targeting, greater potency, and better therapeutic index over traditional chemotherapy, are changing the treatment landscape for hematological malignancies.
Multiple ADCs have been approved by the FDA for clinical use in hematological malignancies in the U.S. which include: gemtuzumab ozogamicin (a CD33-targeting agent approved for acute myeloid leukemia), brentuximab vedotin (a CD30-targeting agent approved for HL and anaplastic large cell lymphoma), inotuzumab ozogamicin (a CD22-targeting agent approved for acute lymphoid leukemia) and polatuzumab vedotin (a CD79-targeting agent approved for NHL).
Camidanlumab Tesirine (Cami)
Recently in EHA 2022 online congress, ADC Therapeutics announced the latest results from a pivotal phase 2 clinical trial of the investigational ADC camidanlumab tesirine (Cami) for the treatment of patients with relapsed/refractory Hodgkin's lymphoma. Cami is generated by coupling a monoclonal antibody targeting CD25 with a pyrrolobenzodiazepine dimer (PBD). Once bound to a cell expressing CD25, it gets endocytosed. There, the protease releases a PBD-based payload that kills the cell. This process may also kill neighboring tumor cells and has also been shown to induce immunogenic cell death. All of these properties of Cami may enhance immune-mediated antitumor activity.

Figure 1. Structure of Camidanlumab Tesirine
The latest results showed that Cami achieved an objective resonse rate of 70.1% and a complete response rate of 33.3% in patients who received a median of six prior therapies. The median duration of response was 13.7 months and the median progression-free survival (PFS) was 9.1 months. Based on these results, the company is preparing to submit a biologics license application for Cami to the U.S. FDA.
By the way, the Camidanlumab Tesirine applies a monodisperse PEG derivatives ad its linker. Biopharma PEG offers a variety of PEG linkers to facilitate ADC development projects. All PEG linkers are of >95% purity and they are the basic building blocks for a successful ADC.
Polivy & R-CHP
Roche has announced the results of a subgroup analysis of the Phase 3 clinical trial of its ADC therapy Polivy in combination with a regimen called R-CHP for the first-line treatment of diffuse large B-cell lymphoma (DLBCL). The combination therapy was recently approved by the European Commission to treat patients with primary DLBCL.
The published subgroup analysis of Asian participants showed that Polivy, in combination with R-CHP, reduced patients' risk of disease progression, relapse or death by 36% compared to standard treatment regimens (HR=0.64, 95% CI: 0.40-1.03).
CAR-T Cell Therapy For Hematology
Chimeric antigen receptor T-cell (CAR-T) therapy, in which T-cells are genetically modified to recognize and proliferate in response to tumor antigens, is revolutionizing the treatment of hematologic malignancies. Since 2017, six CAR T-cell therapies have been approved by the Food and Drug Administration (FDA). All are approved for the treatment of blood cancers, including lymphomas, some forms of leukemia, and, most recently, multiple myeloma.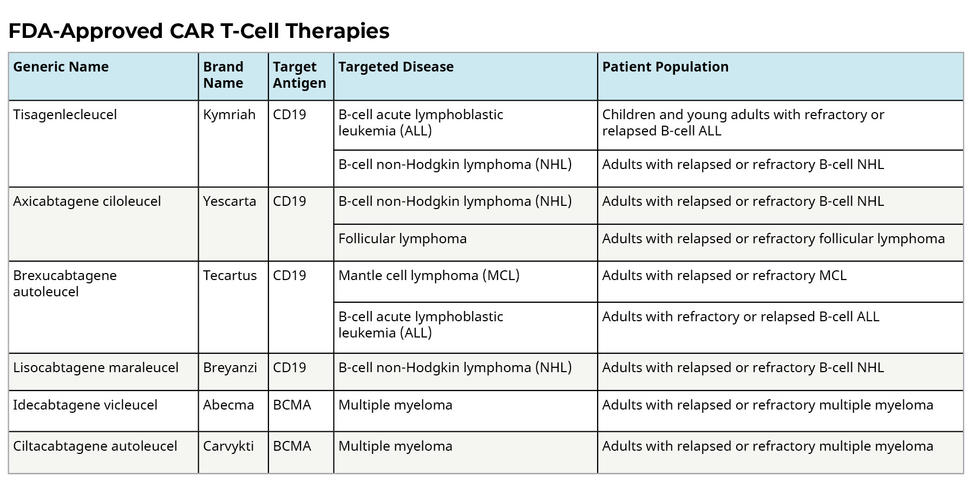 Table 1: FDA Approved CAR-T Cell Therapies
CB-010
Caribou Biosciences, co-founded by Dr. Jennifer Doudna, a Nobel Prize winner and pioneer in CRISPR, announced the latest clinical trial results of CB-010, an off-the-shelf CAR-T therapy made using CRISPR gene-editing technology. This CAR-T therapy uses CRISPR gene editing to knock out the PD-1 receptor expressed by T cells and is designed to improve the durability of cellular therapies.

Figure 2. Preliminary efficacy results of CB-010 (Image source: Caribou Biosciences website)
Results from the latest clinical trial showed that CB-010 achieved a 100% complete response rate in six patients with relapsed/refractory B-cell non-Hodgkin's lymphoma treated with the initial dose of CB-010. After 6 months, the complete response rate was 40%. One patient remained in complete response after 12 months of treatment.
Based on these results, Caribou plans to enroll the next cohort of patients to receive a higher dose of CB-010.
WU-NK-101
Wugen presented preclinical data on its investigational memory NK cell therapy, WU-NK-101, at the EHA Congress. The company's memory NK cells offer enhanced tumor-killing ability and in vivo persistence compared to conventional NK cell therapies, promising a new therapy with improved efficacy and a favorable safety profile.
Data from preclinical studies presented at the EHA Congress showed that WU-NK-101 was effective in reducing tumor load in a mouse model of acute myeloid leukemia (AML) when administered as single or multiple doses. These data support clinical trials in patients with relapsed/refractory AML.
WU-NK-101 exhibits both improved activation, metabolic flexibility, and enhanced cytotoxicity. It also exhibited improved metabolic health and adaptability in the immunosuppressed tumor microenvironment compared to conventional NK cell therapies, supporting its application in solid tumors.
CRISPR/Cas9
Vor Bio announced that using CRISPR/Cas9 technology, it has successfully completed dual gene editing in human hematopoietic stem cells, knocking out the expression of both CD33 and CLL-1. Human hematopoietic stem cell transplantation is one of the important options for treating AML patients. However, while targeted therapies for AML can kill cancer cells, they can also kill healthy hematopoietic cells and produce toxic side effects, Vor Bio's strategy is to knock out the drug-targeted targets in healthy hematopoietic stem cells through gene editing. This is like putting a "cloak of invisibility" on healthy cells so that they cannot be accidentally injured by drugs. Targeted therapies can then be freed up to focus on tumor cells, increasing their specificity while reducing their potential side effects.
This result not only shows the feasibility of multiple gene editing in hematopoietic stem cells, but also indicates that knockdown of CD33 and CLL-1 does not affect the normal function of the cells. Coupling this cell transplantation therapy with targeted therapies may provide a better treatment option for AM.
Bispecific Antibodies For Hematology
Bispecific antibodies (bsAb) that target two independent epitopes or antigens and can thereby exert two different functions. They are currently used to treat infectious, inflammatory, and malignant diseases. Currently, there are five bispecific antibodies that have received market approval, of which 3 are approved for the treatment of hematological malignancies, including Blincyto (blinatumomab), Hemlibra (emicizumab) and Lunsumio (faricimab-svoa).

Table 2. Approved bispecific antibodies
Teclistamab
Janssen announced at the EHA Congress the results of a clinical trial of its BCMA/CD3 bispecific antibody therapy, teclistamab, in combination with the subcutaneously administered anti-CD38 antibody daratumumab, for the treatment of patients with multiple myeloma who have received at least three prior therapies.
At a median follow-up time of 8.6 months, 76.5% of evaluable patients achieved remission and 70.6% achieved very good partial response (VGPR) or better. Objective response rates also reached 73.7% in the subgroup of patients who had been treated with anti-CD38 antibodies. The researchers said that the patients who achieved remission included those previously treated with BCMA or CD38-targeted therapies, implying that this steroid-free immune combination therapy may present an effective treatment option for highly refractory patients.
Targeted Therapies
AbbVie announced the results of a Phase 2 clinical trial of its investigational BCL-XL/BCL-2 inhibitor navitoclax, in combination with ruxolitinib, in patients with myelofibrosis who have not been treated with a JAK inhibitor. BCL-2 family proteins are important regulators of the apoptosis pathway, and by inhibiting BCL-XL/BCL-2, navitoclax may promote cancer cell death.
Results from this phase 2 clinical trial showed that after 24 weeks of treatment, 63% of the 32 evaluable patients met the trial's primary endpoint, defined as a reduction in spleen volume of more than 35%. The trial also met the critical secondary endpoint, with 41% (11/27) of evaluable patients experiencing more than a 50% reduction in total symptom scores at week 24.
This study demonstrates the anti-fibrotic activity of a combination therapy consisting of navitoclax and ruxolitinib, supporting intervention in the early stages of myelofibrosis and improving clinical outcomes for patients.
References:
[1] ADC Therapeutics Announces Results from Pivotal Phase 2 Clinical Trial of Camidanlumab Tesirine (Cami) in Relapsed or Refractory Hodgkin Lymphoma. Retrieved June 10, 2022, from https://www.businesswire.com/news/home/20220610005073/en
[2] Wugen Presents New Preclinical Data Demonstrating Enhanced Anti-Tumor Activity of WU-NK-101 at the European Hematology Association (EHA) 2022 Hybrid Congress. Retrieved June 10, 2022, from https://www.businesswire.com/news/home/20220610005107/en
[3] Caribou Biosciences Reports Positive Additional Data from CB-010 Allogeneic CAR-T Cell Therapy Phase 1 ANTLER Trial at the European Hematology Association (EHA) 2022 Hybrid Congress. Retrieved June 10, 2022, from https://www.globenewswire.com/news-release/2022/06/10/2460243/0/en/Caribou-Biosciences-Reports-Positive-Additional-Data-from-CB-010-Allogeneic-CAR-T-Cell-Therapy-Phase-1-ANTLER-Trial-at-the-European-Hematology-Association-EHA-2022-Hybrid-Congress.html
[4] Genentech Announces Positive Data from Broad Blood Cancer Portfolio at European Hematology Association Annual Meeting. Retrieved June 10, 2022, from https://www.businesswire.com/news/home/20220609005656/en
[5] Vor Bio Successfully Demonstrates Multiplex Editing of Hematopoietic Stem Cells for Next-generation AML Treatment Presented at EHA. Retrieved June 10, 2022, from https://ir.vorbio.com/news-releases/news-release-details/vor-bio-successfully-demonstrates-multiplex-editing
[6] Janssen Presents Updated Data at EHA for Teclistamab in Patients with Relapsed or Refractory Multiple Myeloma. Retrieved June 10, 2022, from https://www.janssen.com/janssen-presents-updated-data-eha-teclistamab-patients-relapsed-or-refractory-multiple-myeloma
[7] AbbVie Presents Investigational Navitoclax Preliminary Data in JAK Inhibitor Naïve Myelofibrosis Patients. Retrieved June 10, 2022, from https://news.abbvie.com/news/press-releases/abbvie-presents-investigational-navitoclax-preliminary-data-in-jak-inhibitor-nave-myelofibrosis-patients.htm
Related Articles:
Bispecific Antibodies - Current Status and Prospects
What Are ADC Linkers: Cleavable vs. Non-Cleavable Linkers
Antibody–Drug Conjugates for the Treatment of Breast Cancer
​ADC Drugs For Non-small Cell Lung Cancer