On July 27, Merck (MSD) announced that the
FDA approved its blockbuster PD-1 antibody therapy Keytruda in combination with chemotherapy
, as a neoadjuvant therapy before surgery, then continued as single agent as an adjuvant therapy after surgery, to treat high-risk early-stage triple-negative breast cancer (TNBC) patients. This is the 30th indication that Keytruda has been approved in the United States. The press release states that the Keytruda combination therapy is the first immunotherapy program approved for the treatment of patients with high-risk early-stage triple-negative breast cancer.

It is worth mentioning that Merck also announced that Keytruda combined with chemotherapy has achieved positive overall survival (OS) results in a phase 3 clinical trial for the treatment of patients with metastatic TNBC.
In patients with metastatic TNBC whose tumors express PD-L1 (CPS>10), the Keytruda chemotherapy combination provides a statistically significant and clinically significant improvement in overall survival compared with chemotherapy
.

Triple-negative breast cancer is an aggressive type of breast cancer characterized by a higher risk of disease recurrence within the first five years after diagnosis. Because it does not express estrogen receptor (ER), progesterone receptor (PR), or human epidermal growth factor receptor 2 (HER2), patients cannot receive targeted therapy targeting these receptors, and treatment options are limited.

This approval is based on the results of a randomized, double-blind, placebo-controlled phase 3 clinical trial of KEYNOTE-522. The trial was conducted in 1174 newly diagnosed patients with high-risk early-stage TNBC. The results of the trial showed that in previously untreated stage II or stage III TNBC patients, compared with the same neoadjuvant chemotherapy regimen alone, Keytruda combined chemotherapy was used before surgery and continued single agent after surgery can significantly prolong event-free survival (EFS) and reduce the risk of disease progression by 37% (HR=0.63, [95% CI, 0.48-0.82]; p=0.00031).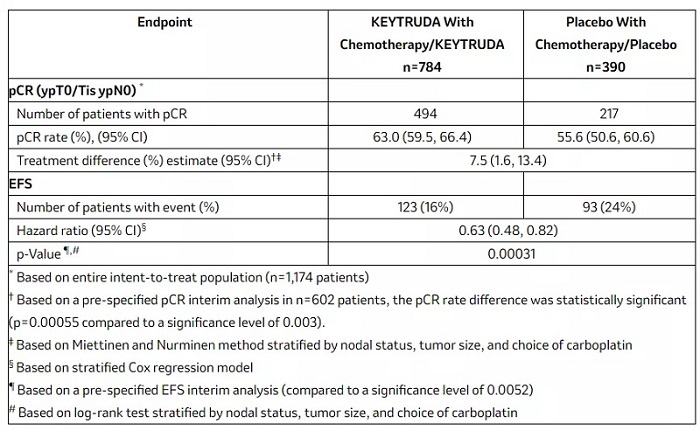 In addition, based on the data of KEYNOTE-522, the FDA converted the accelerated approval of Keytruda combined with chemotherapy to treat locally recurrent unresectable or metastatic TNBC patients with tumor expressing PD-L1 (CPS ≥ 10) into full approval.

"Triple negative breast cancer is a type of breast cancer that is difficult to treat," said Dr. Vicki Goodman, vice president of clinical research at Merck Laboratories. "We are proud to provide new treatment options for patients facing this challenging cancer. A Keytruda's neoadjuvant therapy/adjuvant therapy combination is the first immunotherapy program approved in the high-risk early-stage of TNBC, marking an important milestone in breast cancer treatment."

Sacituzumab Govitecan (IMMU-132)
is an
ADC drug
approved in 2020 which used to treat adults triple-negative breast cancer. As a world leading supplier of PEG derivatives,
Biochempeg
is dedicated to being your most reliable partner to provide chemical synthesis and high-quality
PEG linkers
.
References:
[1]
FDA Approves KEYTRUDA® (pembrolizumab) for Treatment of Patients With High-Risk Early-Stage Triple-Negative Breast Cancer in Combination With Chemotherapy as Neoadjuvant Treatment, Then Continued as Single Agent as Adjuvant Treatment After Surgery
.
[2]
KEYTRUDA Is the First Anti-PD-1 Therapy in Combination With Chemotherapy to Show Statistically Significant OS for This Patient Population.