Update: Global Sales of ADCs in 2022 – UP to 7 Billion

In February 2022, Johnson & Johnson and Eli Lilly announced a partnership with Mersana and ImmunoGen respectively for antibody-drug conjugates (ADCs), with both companies investing over $1 billion. The addition of these two giants also adds a new dynamic to the already intriguing ADC drug market.[1][2]
Antibody-Drug Conjugates (ADCs) consist of a monoclonal antibody drug targeting a specific antigen and a small molecule cytotoxic drug coupled by a linker, combining the powerful killing effect of traditional small molecule chemotherapy with the tumor-targeting properties of antibody drugs. According to a publication in Nature Reviews Drug Discovery in 2021, the global ADC drug market will reach $16.4 billion by 2026, with Daiichi Sankyo/AstraZeneca's DS-8201 (Enhertu) expected to reach $6.2 billion in sales due to its potential indications for multiple cancer types[3].
ADC Drugs Global Sales of 2021
Recently, the annual financial reports of major pharmaceutical companies have been announced, and the annual sales of ADCs have also been disclosed. Currently, a total of 14 ADC drugs have been approved for marketing worldwide, including 12 approved by the FDA and one each in Japan and China. In 2021, the global ADC market exceeded $5 billion. There are only two ADC drugs with sales exceeding $1 billion, Kadcyla and Adcetris, as found in the table. T-DM1 (Kadcyla) continued to lead the pack with sales of $2.178 billion.

Note: 1) Data from company financial reports; 2) Data for Enhertu is disclosed by AstraZeneca, represents markets outside Japan, excluding sales revenue in Japan, which is independently handled by Daiichi Sankyo, with sales revenue of approximately $60 million in the first three quarters of 2021.
Kadcyla (Trastuzumab emtansine) and Adcetris (Brentuximab vedotin) are ADC drugs that have been on the market for a relatively long time and hold an overwhelming share of the current ADC market. As the first ADC in solid tumors, Kadcyla ranked first with sales of $2.178 billion, with a 16% year-over-year increase, the double-digit increase showing good growth potential. In 2021, the growth of Kadcyla is mainly driven by the indication of adjuvant therapy for early-stage breast cancer, although the rate of increase is lower than in 2020. The growth trend may slow further, especially in 2022 when Enhertu competes in the second-line breast cancer indication.
Combined sales of Adcetris (Brentuximab vedotin), co-developed by Seagen and Takeda, also exceeded $1.3 billion, second only to Kadcyla in terms of market size. Brentuximab vedotin is now the first-line standard therapy for CD30-positive Hodgkin's lymphoma and peripheral T-cell lymphoma in the United States. The statistically significant improvement in OS has also made it a clinically based treatment. In addition, clinical studies for indication expansion are still underway with Brentuximab vedotin.
Enhertu (DS-8201, HER2 ADC) of AstraZeneca/Daiichi Sankyo, and Trodelvy (Sacituzumab govitecan, TROP2 ADC) of Gilead show great growth potential.
Enhertu was approved in late 2019 and has global revenues of $426 million in 2021 ($202 million in 2020) in markets outside of Japan.
In 2021, Enhertu disclosed positive data in a head-to-head clinical phase III study in Her2-positive breast cancer, significantly improving patient OS compared to Kadcyla. A supplemental application for Enhertu for second-line treatment of Her2-positive breast cancer has been granted priority review by the FDA and is expected to be approved for marketing in the first half of 2022, and applications for the same indication have been submitted simultaneously to the EU and Japan. In the second half of 2022, there may be an EU regulatory resolution for Enhertu in the second line treatment of Her2-positive breast and gastric cancers, which could lead to a further increase in its sales in 2022.
In addition, clinical data from the DESTINY-Breast04 was published in Feb 2022, which shows Enhertu demonstrated a statistically significant and clinically meaningful improvement in both progression-free survival (PFS) and overall survival (OS) in patients with HER2-low unresectable and/or metastatic breast cancer regardless of hormone receptor (HR) status when compared with physician's choice of chemotherapy. Enhertu is also being studied in the neoadjuvant treatment of HER2+ breast cancer. However, adverse interstitial lung disease reactions in clinical trials with Enhertu may be a significant factor limiting its clinical use.
In 2021, Sacituzumab Govitecan achieved sales revenue of $380 million in its first full year, making it one of the better-performing ADCs launched in recent years. In April 2021, Sacituzumab Govitecan received full FDA approval for the treatment of triple-negative breast cancer, along with the expanded indication for uroepithelial cancer, contributing to continued sales growth. In November 2021, the launch of Sacituzumab Govitecan in the EU supplemented sales revenue, which was $120 million in Q4 2021 alone.
Clinical Phase III data for Sacituzumab Govitecan for HR+/HER2- metastatic breast cancer will be published in the first half of 2022, with a marketing application to be submitted in the second half of the year.
Sacituzumab Govitecan's first-mover advantage will allow it to remain exclusive in the market for the next few years, and similar products (e.g., datopotamab deruxtecan) will not submit marketing applications for the same indication in the near term. Although, Padcev (enfortumab vedotin) is also approved for the treatment of uroepithelial cancer, the two drugs target different antigens and are considered to have a differentiated patient population.
GlaxoSmithKline's Blenrep (belantamab mafodotin), which is currently indicated as an endline therapy (5th line and above) for multiple myeloma and is very backward in clinical use, also achieved revenues of $122 million in 2021, and market sales are also expected to increase significantly if a forward shift in therapeutic use line level can be achieved.
ADCs Under Investigation Worldwide
So far, the top 10 ADC companies in the world are mostly multinational companies such as Roche, Gilead, AbbVie, Daiichi Sankyo and Pfizer. Among them, the industry leader is Seagen with 25 ADC products in development. As of February 2022, ClinicalTrials.gov website shows that there are 1685 ADCs registered for clinical trials. The indications with the highest R&D enthusiasm are oncology, and there are mature targets for marketed products, such as HER2, TROP2, Nectin4, EGFR, CD22, CD20, etc. In addition, ClinicalTrials shows that indications have expanded to include infections (e.g. HIV, lung disease), autoimmune diseases (spondyloarthritis, Alzheimer's disease) and metabolic diseases (obesity, diabetes), etc.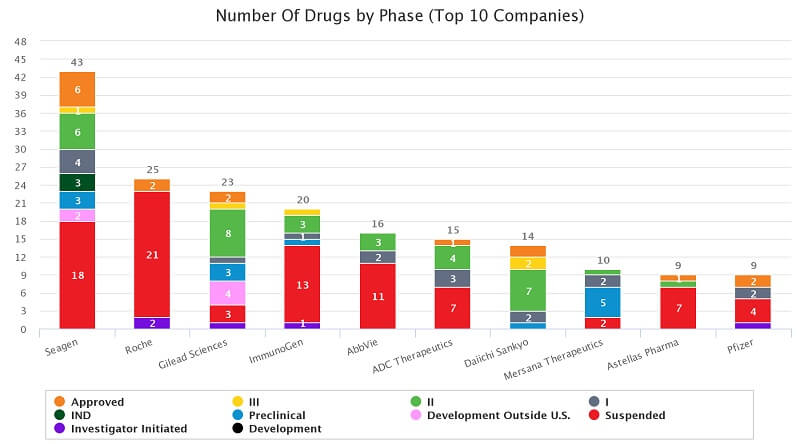 ​Number of ADC products under investigation by top 10 companies worldwide
Biopharma PEG provides GMP standard PEG derivatives and bulk orders via custom synthesis, offering the opportunity to match customers' special quality requirements. ADC linkers with molecular weights, branching, and functional groups not listed in our online catalog may be available by custom synthesis.
References:
[1] J&J's Janssen inks $1B biobucks pact for Mersana's ADC tech in 3 targets, https://www.fiercebiotech.com/biotech/j-j-s-janssen-inks-1b-biobucks-pact-for-mersana-s-adc-tech-for-three-targets
[2] Lilly reunites with ImmunoGen to expand into ADCs, paying $13M upfront and $1.7B on the back end, https://www.fiercebiotech.com/biotech/lilly-reunites-immunogen-expand-adcs-paying-13m-upfront-and-17b-backend
[3]do Pazo C, Nawaz K, Webster RM. The oncology market for antibody-drug conjugates. Nat Rev Drug Discov. 2021 Aug;20(8):583-584. doi: 10.1038/d41573-021-00054-2. PMID: 33762691.
Related Articles:
What Are ADC Linkers: Cleavable vs. Non-Cleavable Linkers
Global Antibody-drug Conjugates (ADCs): Approvals & Clinical Trails Review
Antibody-Drug Conjugates for the Treatment of Breast Cancer
ADC Drugs For Non-small Cell Lung Cancer
The Rise of the TROP2-Directed ADCs for Solid Tumors
​HER2 Targeted Therapies In Breast Cancer