Claudins (CLDN) are a class of tight junction proteins, discovered and named by Shoichiro Tsukita et al. of Kyoto University, Japan, in 1998, which are involved in the regulation of the permeability, barrier function, and polarity of epithelial layers.
Claudin18.2 (CLDN18.2) is a member of the CLDN protein family with two isoforms, CLDN18.1 and CLDN18.2, present in differentiated gastric mucosal membrane epithelial cells. CLDN18.2 are small molecule (20-24/27 kDa) tetraspanin proteins composed of four transmembrane domains (TMDs), an N-terminus and a C-terminus in the cytoplasm and two extracellular loops (ECL1, ECL2) that span the TMDs. The expression of CLDN18.2 is tissue-specific and highly restricted in normal tissues, but abnormally expressed in malignant tumors such as gastric, pancreatic, ovarian, and lung adenocarcinomas, which can be targeted precisely and is an ideal target for cancer detection, diagnosis, and treatment.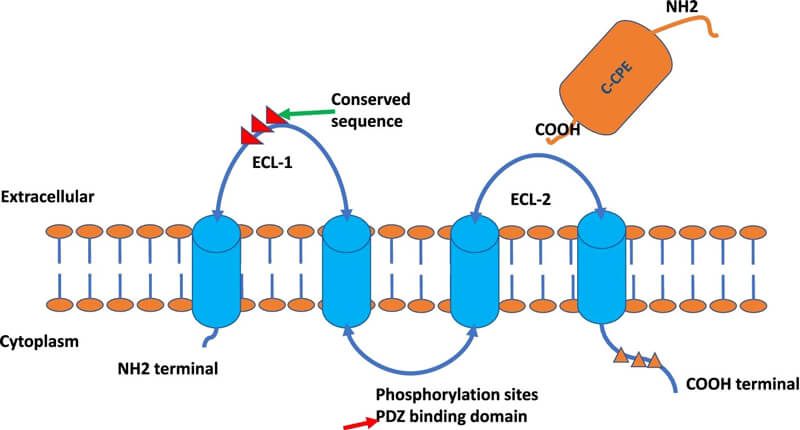 Figure 1. The depiction of Claudin protein structures. Source: references [1]
Expression and Role of Claudin in Cancer
A number of studies have shown that claudin expression is tissue-specific and appears to be reversed with carcinogenesis. In other words, claudin expression is downregulated in cancers occurring from claudin-specific highly expressed tissues, whereas claudin expression is upregulated in cancers occurring from claudin-low expressing tissues.
Figure 2. Schematic model of the pro and antitumorigenic roles of claudins. Source: Reference [2]
Consistent with the various expression patterns of claudins, a role for claudins in pro- and antitumorigenesis has been reported. The precise mechanisms by which claudins suppress or promote tumorigenesis are unclear. The potential mechanism of action of Claudins for cancer inhibition may involve their paracellular barrier and signal transduction functions. Claudins prevent the passage of exogenous substances through the paracellular space in the physiological condition; otherwise, inflammation occurs, which is the most common causative agent of cancer. In addition, loss of the epithelial barrier may lead to the infiltration of growth factors into the mucosa to promote neoplastic transformation and growth.
Regarding their pro-tumorigenic effects, studies have focused on the hypothesis that claudins activate various signaling pathways or proteases to promote tumorigenesis. Outside of tight junctions, claudins are involved in signal transduction, ECM degradation and receptor cleavage through binding to other molecules, such as epithelial cell adhesion molecule (EpCAM), membrane type-matrix metalloproteinases (MT-MMPs), disintegrin and metalloproteinase 10 (ADAM10) and integrins, leading to the activation of many oncogenic pathways. Claudins also form complexes with transcription factors (TFs), such as YAP/TAZ and β- catenin, to induce nuclear accumulation of these TFs. Through these mechanisms, claudins are thought to play a role in almost all aspects of tumor biology and in all steps of tumor development.
Current R&D Status of CLDN18.2 Targeted Therapy
Currently, no CLDN18.2-targeting therapeutic agents are available worldwide, but many drugs are under investigation for cancer immunotherapy , including mAbs, bispecific antibodies (BsAbs), chimeric antigen receptor T (CAR-T) cells, and antibody–drug conjugates (ADCs). Regarding clinical trials related to CLDN18.2, as of the end of October 2022, there are more than 40 ongoing trials. Most of these trials focus on solid tumors, including advanced unresectable GC, GEJ cancer, metastatic esophageal cancer, and PC.
Figure 3. Clinical applications of claudin-targeting agents in the diagnosis, prognosis and treatment of cancer. Source: Reference [2]
Monoclonal Antibody (mAb)
Zolbetuximab (IMAB362, claudixmab) is the only CLDN18.2-targeting agent to enter clinical phase III. Zolbetuximab is a chimeric IgG1 monoclonal antibody that binds specifically to CLDN18.2 on the surface of tumor cells, thereby triggering antibody-dependent cytotoxicity (ADCC), complement dependent cytotoxicity (CDC), apoptosis and inhibition of cell proliferation. Preclinical studies have successfully demonstrated its potent ability to remove cancer cells and control disease.
On November 16, 2022, Astellas announced positive top-line results from the Phase 3 SPOTLIGHT clinical evaluating the efficacy and safety of zolbetuximab in combination with mFOLFOX6. The SPOTLIGHT trial enrolled 566 patients with CLDN18.2-positive, HER2-negative, locally advanced unresectable or metastatic gastric or GEJ adenocarcinoma.
The study met its primary endpoint of statistically significant progression-free survival (PFS) in patients treated with zolbetuximab plus mFOLFOX6 compared to placebo plus mFOLFOX6. In addition, the study met a secondary endpoint, showing statistical significance for patients treated with zolbetuximab plus mFOLFOX6 compared to placebo plus mFOLFOX6. The most common treatment-emergent adverse events in patients treated with zolbetuximab in combination with mFOLFOX6 were nausea, vomiting and loss of appetite.
In the phase II ILUSTRO trial, investigators evaluated the efficacy of zolbetuximab in combination with pembrolizumab for the treatment of patients with locally advanced or metastatic adenocarcinoma of the gastric and gastroesophageal junction. The study showed an objective response rate (ORR) of 63.2%, a median PFS of 13.7 months, and a 12-month PFS rate of 58% in 19 evaluable patients. Common adverse events (AEs) were nausea and vomiting; grade 3 to 4 AEs were neutropenia and granulocyte deficiency. Data from this trial were published in 2021 ASCO.
Figure 4. The phase II ILUSTRO trial of zolbetuximab
The latest data from the Zolbetuximab clinical phase II trial FAST, published in Annals of Oncology in 2021, showed that PFS and OS data for Zolbetuximab combined with EOX for gastric cancer were further prolonged compared to EOX, and in the population of patients with >70% Claudin18.2 positive tumor cells, median PFS and OS reached 9.0 months and 16.5 months, respectively, compared with 5.7 months and 8.9 months, respectively, in the placebo combined with EOX treatment group.
Figure 5. The phase II FAST trial of zolbetuximab

CAR-T Cell Therapy
Engineered CAR-T cells with excellent specificity and high affinity for claudin-6 and claudin-18.2, combined with the 4-1BB co-stimulatory structural domain, successfully induced tumor regression in preclinical models with minimal side effects.
CT041 is an autologous CAR-T product targeting CLDN18.2 for the treatment of CLDN18.2-positive GC/GEJ and PC. CT041 is currently undergoing a phase Ib/II clinical study in China for advanced GC/GEJ adenocarcinoma (CT041-ST-01, NCT04581473). Previously, CT041 was granted Regenerative Medicine Advanced Therapy (RMAT) designation by the U.S. FDA, and has achieved far superior efficacy than standard therapies in patients with backline gastric cancer.
The phase I clinical study of CT041 enrolled adult patients with immunohistochemically confirmed tumor tissue expressing CLDN18.2 who had received at least one treatment for advanced gastrointestinal cancers, all of whom had developed metastases, and a total of 49 patients received CT-41 infusions. An initial 37 patients were included in this interim analysis, 28 of whom had gastric or gastroesophageal junction (GC/GEJ) tumors, 5 had pancreatic cancer (PC), and 4 had other types of digestive system tumors.
Thirty-six of the 37 patients had measurable target lesions; of these, 30 (83.3%) patients showed tumor regression. The overall response rate (ORR) and disease control rate (DCR) in this study reached 48.6% and 73.0%, respectively, with a median progression-free survival (mPFS) of 3.7 months and an overall survival (OS) rate of 80.1% at 6 months for all patients. Gastric cancer patients achieved ORR and DCR of 57.1% and 75.0%, respectively, with an mPFS of 4.2 months and an overall survival rate of 81.2% at 6 months.
​
Figure 6. Clinical trials of CT041
Antibody-Drug Conjugates (ADCs)
Several biopharmaceutical companies are also currently working on ADC drug development targeting Claudins. CMG-901, the world's first CLDN 18.2 ADC in clinical development, consists of a humanized monoclonal antibody, CM311, targeting CLDN 18.2, coupled to the microtubulin inhibitor MMAE via a cleavable linker. The antibody portion of this drug activates antibody-dependent cytotoxic effects and complement-dependent cytotoxic effects to synergistically kill tumor cells.
​In April 2022, KeyMed Biosciences Inc announced that CMG901 for the treatment of recurrent/refractory gastric cancer and adenocarcinoma of the gastroesophageal junction has been granted orphan drug designation and Fast Track Designation (FTD) by the U.S. FDA. A Phase I trial for patients with advanced solid tumors is currently underway to evaluate the safety, tolerability, PK and initial anti-tumor activity of CMG901 in a dose-escalation phase and a dose-expansion phase.
Future perspectives and conclusion
First, CLDN18.2 may be the second most important target for gastric cancer after HER-2. It even surpasses HER-2 in highly expressed populations. The efficacy of OS in the FAST trial was no less than that of HER-2. Further studies are needed to determine the ideal cut-off value for CLDN18.2 levels for optimal benefit.
Second, combination therapy is something to look forward to. With the rise of Zolbetuximab in combination with chemotherapy regimens, combination therapy with other targeted agents may also be worth investigating. Notably, the combination of Zolbetuximab and immunotherapy stimulates T-cell infiltration, which is coordinated with immune checkpoint inhibitors.
Finally, the significance of more predictive prognosis requires further investigation. Molecular subtypes have greater potential to guide precise drug therapy, such as CLDN18-ARHGAP26/6 fusions, indicating poorer survival and chemoresistance. Additional predictors of CLDN18.2 could be explored and validated to benefit specific populations.
CLDN18.2 is a promising target in patients with HER-2 negative gastric cancer, not only in terms of selectivity but also in terms of population prevalence, making it an ideal complement to targeted therapies for gastric cancer. The novel antibody zolbtuximab, either as monotherapy or in combination with chemotherapy, has shown remarkable superior efficacy and safety. CLDN18.2 CAR-T cell therapy has also recently explored another possibility with its excellent performance. This strategy will progress to phase III clinical trials, and when combined with other therapies, will likely further enhance efficacy. As the molecular structure and clinical trials continue to improve, anti-CLDN18.2 therapy will perfectly answer all kinds of questions and bring more surprises in the future.
Biopharma PEG, as a professional PEG supplier, offers a variety of PEG linkers to facilitate your drug development, such as antibody-drug conjugate (ADC), peptide drug conjugates (PDC), etc. All PEG linkers are of >95% purity and they are the basic building blocks for a successful ADC.
References:
[1] Cao, W., Xing, H., Li, Y. et al. Claudin18.2 is a novel molecular biomarker for tumor-targeted immunotherapy. Biomark Res 10, 38 (2022). https://doi.org/10.1186/s40364-022-00385-1
[2] Li J. Targeting claudins in cancer: diagnosis, prognosis and therapy. Am J Cancer Res. 2021 Jul 15;11(7):3406-3424. PMID: 34354852; PMCID: PMC8332862.
[3] https://www.astellas.com/en/news/26821
Related Articles:
The Rise of the TROP2-Directed ADCs for Solid Tumors
EGFR-Directed ADCs for Cancer Treatment
Overview of HER2-targeted Drugs
Nectin-4-Directed Drugs for Solid Tumors​
c-MET: A Novel Target for Anticancer Therapies​
Novel FRα-targeting Antibody-drug Conjugates (ADCs)